---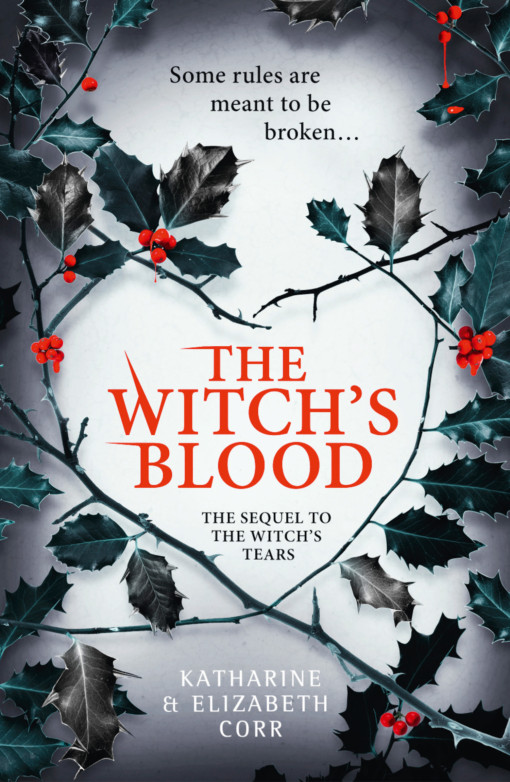 Today I am excited to be part of The Witch's Blood Blog Tour to celebrate the third and final book in the trilogy!
The Witch's Blood by Katharine & Elizabeth Corr was released on the 8th March 2018 published by Harper Collins Children's Books and is a must for any fantasy fan!
Today Katharine & Elizabeth are talking about their fantasy coven in this fab guest post…

---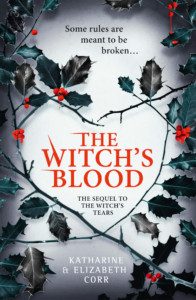 Just who can you trust when no one around you is who they seem?
The final spell-binding book in THE WITCH'S KISS trilogy by authors and sisters, Katharine and Elizabeth Corr.
Life as a teenage witch just got harder for Merry when her brother, Leo is captured and taken into an alternative reality by evil witch Ronan. Determined to get him back, Merry needs to use blood magic to outwit her arch-rival and get Leo back. Merry is more powerful than ever now, but she is also more dangerous and within the coven, loyalties are split on her use of the magic. In trying to save Leo, Merry will have to confront evil from her past and present and risk the lives of everyone she's ever loved. Given the chaos she's created, just what will she sacrifice to make things right?
---
Our Fantasy Coven
'Being a witch meant becoming familiar with hundreds of years' worth of spells and techniques and history. Merry understood the necessity, sort of. She had to be able to cast spells with the other witches so she could become a full member of the coven. Witchcraft was a team sport. Or at least it was supposed to be.'
Merry, our main character in The Witch's Kiss trilogy, has a love/hate relationship with the coven that she (sort of) belongs to. Excluded initially because her mum refuses to let her practise magic, Merry starts training to join the coven in The Witch's Tears, but she chafes against the rules and restrictions. And the other coven members aren't entirely comfortable being around Merry either, especially as her power grows. Still, the coven has an important part to play, for good or ill (no, we're not going to tell you which!) before the end of The Witch's Blood. We rather like the idea of having a bunch of powerful witch friends to hang out with, so we've decided to put together our own Fantasy Coven (limited to eleven witches, because it's the closest we're likely to get to picking a fantasy football team).
Granny Weatherwax (The Discworld books, Terry Pratchett)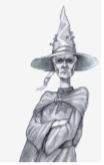 One of our favourite Discworld characters, illustrated here by Paul Kidby. Granny Weatherwax is wise, really powerful, sharp as a scalpel, and always does the right thing. Not necessarily the nice thing, mind you. She would be brilliant as our coven leader and would have no trouble keeping the more morally ambiguous members in line.
Nanny Ogg (The Discworld books)
The brown sauce to Granny's bacon sandwich. Nanny would be the one to keep an eye on the coven's younger members, and she'd be sure to supply plenty of interesting 'refreshments' for those late-night coven meetings.
Maleficent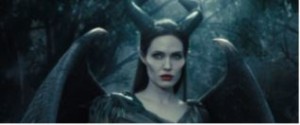 We're plumping for the Angelina Jolie version here because a) she's much nicer than in the Disney cartoon, b) she has cheekbones to die for and c) has wings. Super useful for when your broomstick breaks down.
Hermione Granger (The Harry Potter books, JK Rowling)
As the brightest witch in her generation (or probably almost any generation, let's face it), we think Hermione would get on really well with Granny Weatherwax. Plus, we'd really like
to see Hermione as part of a team of powerful witches without any of those annoying (and, let's face it, less talented) wizards hanging around.
Merry Cooper (The Witch's Kiss trilogy)
Merry doesn't have Hermione's application and love of studying, but she is really powerful and she's determined to take care of the people she loves. Definitely someone we'd like on our side.
Meg (from Meg & Mog, Helen Nicoll/Jan Pieńkowski)


Meg's spells don't always go to plan, but we'd still love to have her in the coven: for starters we'd get to pet Mog, which we'd love as we're both cat people. Plus Meg has all the traditional witchy paraphernalia: cauldron, broomstick, black boots, black dress and pointy black hat. The quintessential witch.
Willow (from Buffy the Vampire Slayer)
Super loyal, bookish and fun to hang out with, we think Merry and Willow would get on like a house on fire. Both witches are extremely powerful and at times find if difficult to exercise due restraint: but ultimately both seek to use their power to protect the ones they love. And you can't blame them for that. Also, being in a coven might help Willow stay on the right side of the line when it came to magic; she has been known to dabble in some very dark spells…
Glinda the good witch (from The Wizard of Oz, L Frank Baum)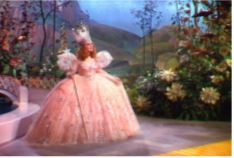 Glinda's outfit choice literally makes pink the new black. We'd like our coven to be as blinged up as possible: sparkly ballgowns and jewel-studded broomsticks all the way. No sneaking around secretly for us! Also, unlike some of the other witches in our coven, Glinda has impeccable manners. She'd be useful when diplomacy is required.
Sally and Gillian Owens (Practical Magic, Alice Hoffman)
Confession time: we haven't yet read the book on which the Sandra Bullock/Nicole Kidman film is based. Still, from the film version, we think these highly talented siblings would be good coven members: just like Merry and Leo, they're absolutely devoted to one another, working best as a team. Plus, they have fabulous hair, a keen fashion sense and would certainly – along with Glinda – inject some much-needed glamour into the coven. Not a wart in sight.
Arianwyn (The Apprentice Witch, James Nicol)
Arianwyn is a little bit like Mildred Hubble: she gets off to a slow start, magically speaking. Failing her witch's assessment, she's sent off to the remote village of Lull to start life as an apprentice, somewhat in disgrace. However, just like Mildred, there's much more to this resilient and courageous young witch than meets the eye. Not only is she fiercely loyal, considerate and kind, it turns out she's way more powerful than anyone realised. All in all, she's a real sweetie – the sort of witch who would definitely have your back.
Witches we definitely WON'T be letting into the coven: Jadis (aka the White Witch from the Narnia books by CS Lewis), Nancy Downs (The Craft) and Bellatrix le Strange (Harry Potter). We just don't think any of them are really team players… But what do you think? Who would be in your fantasy coven?
Thank you so much to Michelle for being one of our blog tour hosts!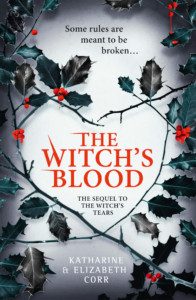 You can buy a copy of The Witch's Blood here or from your local bookshop!
---
About Katharine & Elizabeth Corr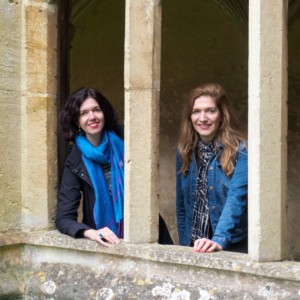 We are sisters and best friends (try writing a book with someone else and you'll see why that last bit is kind of important). After spending our childhood in Essex, we now live ten minutes away from each other in Surrey. We both studied history at university and went to work in London for a bit. Then we stopped working to raise families, because somehow we missed the memo explaining that children are far more demanding than clients or bosses. When we both decided to write novels – on account of fictional people being much easier to deal with than real ones – it was obvious we should do it together.
Stuff Katharine likes: playing instruments badly; dead languages; LOTR; loud pop concerts; Jane Austen; Neill Gaiman; Loki; the Surrey Hills. Killing off characters.
Stuff Elizabeth likes: sketching, Buffy the Vampire Slayer, cinema, long baths, kitchen discos, Terry Pratchett, Thor, London. Saving characters.
Stuff we both like: YA / non-YA fantasy and science fiction,Star Wars, Star Trek, each other (most of the time).
You can find out more about Katharine and Elizabeth on their website – www.corrsisters.com
Or why not follow them on twitter – @katharinecorr and @lizcorr_writes
---
Previously on Tales….
You can catch previous posts by Katharine & Elizabeth Corr by clicking on the below links…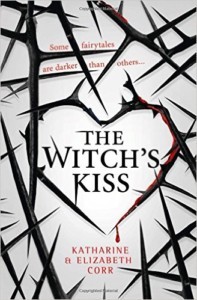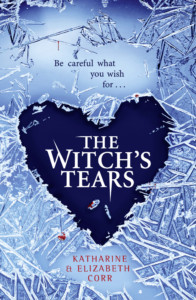 Our Favourite Magical Moments In Literature
---
Blog Tour
You can follow or catch up on the rest of this fab blog tour at the following stops!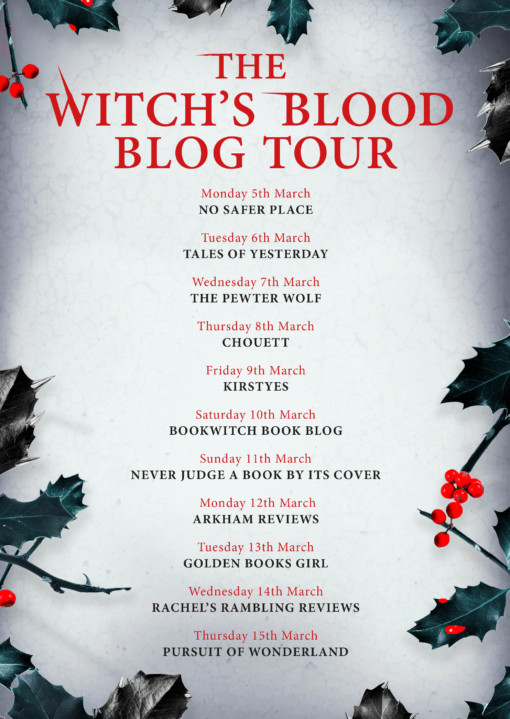 ---
A huge huge thank you to Katharine and Elizabeth for such a superb guest post and for being so lovely to invite me onto the blog tour!  Also a huge thank you to Jess at Harper Collins for having me and sending me a copy of the book.
Have you read any of The Witch's Kiss Trilogy?  What did you think?  Who would be in your coven?  I would love to hear from you!  Why not leave a comment using the reply button at the top of this review or tweet me on twitter using @chelleytoy!
Happy Reading!