---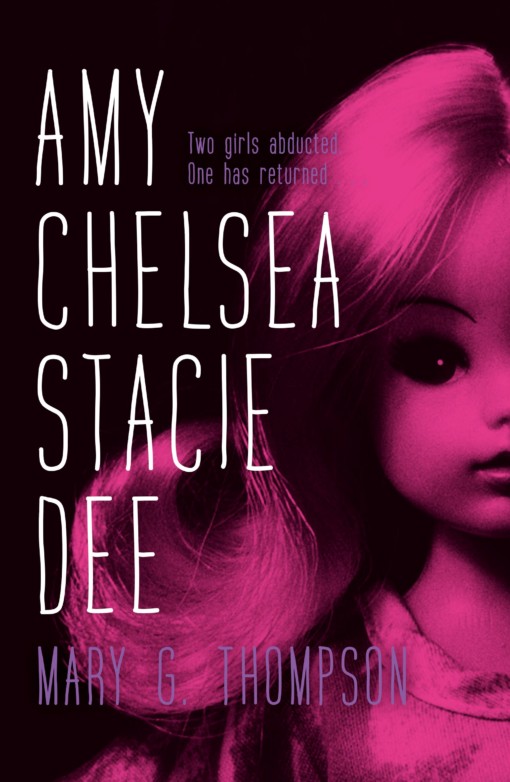 I have recently received this awesome YA Thriller by US author Mary G. Thompson, Amy Chelsea Stacie Dee which was released on the 2nd March 2017 published by Chicken House.
Amy Chelsea Stacie Dee is perfect for fans of Louise O'Neill, Lisa Heathfield and Cat Clarke's The Lost and the Found.
I've heard such good things about this book already and I simply cannot wait to read it!
"Cleverly interspersing the present-day story with flashbacks, Mary G. Thompson masterfully drip-feeds twists and turns into AMY CHELSEA STACIE DEE until it builds to its heart-in-mouth conclusion."
I am so excited to have a fab guest post from the author herself about writing myths and tips…..
---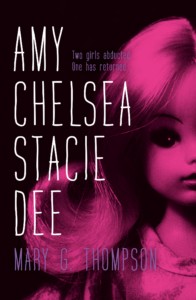 Cousins Amy and Dee were kidnapped by a stranger as children. Now, sixteen-year-old Amy is back with her parents. Dressed in purple and clutching a plastic doll, she refuses to answer questions. As Amy struggles towards a normal teenage life, her family – and the police – press her for information. Unable to escape her past, Amy realizes she has to confront the truth. How did she survive? How did she escape? And what happened to Dee?
You can read the first chapter here
---
Three Terrible Writing Myths and Three Amazing Writing Tips!
Myth #1:
You need creativity to strike.
I'm not going to claim that ideas don't sometimes come in the middle of the night or at other inconvenient times. They definitely do! I get them while I'm at the day job or on the subway or half asleep or in the shower. I almost never get an aha idea while I'm sitting in front of the computer ready to write. But that's okay, because most of writing is not about ideas, it's about execution. That means sitting your butt in the chair (or, if you're trying to be healthy, standing your feet at your standing desk), and writing all the words that bring the idea to life. But what if that idea just isn't coming? Well, that leads me to …
Myth #2:
Writer's Block.
That's right, writer's block is a myth! I always say that there are two states for a writer, working and not working. What people think of as writer's block is really just not working. If you sit in front of your computer and think, you will eventually think of something to write, and if you begin to write, you will eventually have a base from which to build. Whenever I say this to people, they object. They always have a reason why writer's block is a legitimately totally real thing for them. It isn't! If you think you have writer's block, you are actually procrastinating. We all do it, but it's something we all need to overcome. Sometimes writing is just as hard as any other job, and we can't wait to magically find …
Myth #3:
The zone.
Ok, this may not be a myth for everyone. I have author friends who tell me that they sometimes get lost in a book and don't realize that four hours have passed. This never happens to me! I have a terrible time concentrating. I stare off into space and fidget and surf the internet and text my friends and everything else. I know that I'm terrible at concentrating, so I don't expect myself to magically fall into a fugue state. And this leads me to my first tip!
Tip #1:
Work longer, not smarter.
This tip is for people like me who have trouble concentrating. If you are like me but you expect yourself to write your daily word count goal in one hour, you are going to stress yourself out and be frustrated. Since I know myself, I've totally given up on efficiency. Instead, I set aside the time to sit in the chair until I know I can accomplish my goal. For me, this means I set aside at least five good hours on every day I have off of my day job. That's five hours of time that's totally uninterrupted except for all the ways my own brain finds to interrupt me. A lot of people dislike this tip because they are still trying to break into the business and have day jobs and/or kids that make it tough to find uninterrupted time. Which leads me to …
Tip #2:
Keep a regular schedule.
You can make up for a lack of long blocks of time by writing at the same time every day or for the same blocks of time every week. When I was a lawyer working longer hours, I would write for about an hour every day after work. This wasn't ideal, but combined with several hours on the weekend, it added up to what became my first book. The important thing for me is to work regularly enough to keep the book in my head so I don't forget what is going on. It is key to work steadily and never go long periods of time without writing, which leads me to …
Tip #3:
Do not stop!
Some people will tell you that when you finish a manuscript, you should set it aside and let it breathe or something for a few months. I advise against this. I usually end up taking a few days between finishing a draft and starting a revision, but too much time pulls you out of the story and sets you back. You wouldn't stop going to your day job for months, so you shouldn't stop writing either. The good news is, you don't have to be a magical creative genius! All you have to do is keep writing and writing until you have a book!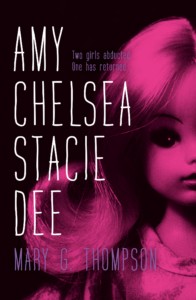 Amy Chelsea Stacie Dee by Mary G. Thompson is out now priced £6.99
You can buy a copy of Amy Chelsea Stacie Dee here or from your local bookshop!
---
About Mary G. Thompson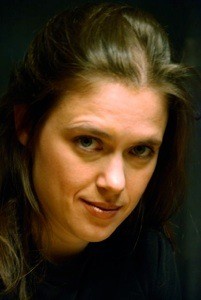 Mary G. Thompson was raised in Oregon, USA. She was a practicing attorney for more than seven years, including almost five years in the US Navy, and is now a law librarian in Washington, DC. She received her BA from Boston University, her JD from the University of Oregon, and her MFA in Writing for Children from The New School. This is her fifth book.
You can find out more about Mary G. Thompson on her website – www.marygthompson.com
Or why not follow Mary of twitter – @marygthompson
---
A huge thank you to Mary for such a brilliant guest post and some brilliant writing tips!  And to Jazz at Chicken House for organising and sending me a copy of this fab book!
Have you read Amy Chelsea Stacie Dee?  What did you think?  Are you intrigued to go and grab a copy?  I would love to hear from you!  Why not leave a comment using the reply button above or tweet my on twitter using @chelleytoy!
Happy Reading!